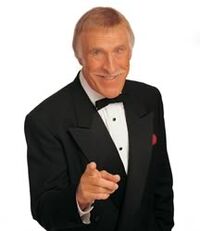 Sir Bruce Joseph Forsyth-Johnson CBE, (born February 22, 1928 - August 18, 2017) commonly known as Bruce Forsyth, or Brucie, is an English TV personality.
He also did a few movies including the Disney classic Bedknobs & Broomsticks.
His famous catchphrase: "It's nice to see you, to see you...NICE (said by the audience)!"
He has hosted many British television game shows in his long career, including a short-lived one here in America called Hot Streak.
Until recently, he used to host Strictly Come Dancing, a show that inspired the American show Dancing with the Stars.
Shows hosted
Edit
Play Your Cards Right
The Generation Game
You Bet!