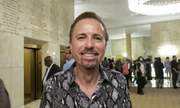 Stan Blits (born TBA in San Francisco, California) is the head of his own production company in Los Angeles, California. He is best known for his 16-year tenure as a producer of the CBS game show The Price is Right until end of Season 49.
Game Show Career
[
]
Other game shows that he has been involved with are Family Feud, "Card Sharks", Now You See It, Classic Concentation" and the 1973-1982 era of Match Game. 
Blits started as a member of the production staff with The Price Is Right in 1980; he became a producer in 2008. He talks to the audience in line in 15 to 20 minutes, sometimes longer period of time two shows a day.